Live
WWE WrestleMania 38 Live Updates or WWE WrestleMania 38 2022 Live Updates: The exciting day 1 is stacked with several high-profile matches with title matches and superstars returns expected to steal the show.
Updated on Apr 03, 2022 06:19 AM IST
WWE WrestleMania 38 Live Updates: Drew McIntyre landed the Claymore Kick on Happy Corbin to pick up the win. The Usos retained the WWE Smackdown tag team championships against Shinsuke Nakamura and Rick Boogs as Day 1 kicked off. WWE Universe. The two-day WrestleMania PPV, will see its opening day host some of the most enthralling matches, the highlight being Stone Cold Steve Austin's return to WWE television as he accepts Kevin Owens' invitation to the KO Show. The 'Baddest woman on the planet' – Ronda Rousey will challenge the SmackDown Women's Champion – Charlotte Flair in the title match. After a history of injuries and fractures, Raw Women's Champion 'Big Time Becks', Becky Lynch will put her title back on the line against Bianca Belair. Finally, Seth Rollins, who requested Mr. McMahon for a match at the grandest stage, will get to know who his mystery opponent will be.
Follow WWE WrestleMania 38 Live Updates Here:
Follow all the updates here:
Apr 03, 2022 06:17 AM IST

WrestleMania 38 live updates: McIntyre picks up the win

A thrilling finish to the match. Corbin managed to execute the End of Days on his opponent but McIntyre kicks out becoming the first man to survive the finishing move. He then manages to land the Claymore Kick to pick up the win. McIntyre tries to intimidate Moss and slashes the top two ropes with his sword. With that, here's another WrestleMania win for McIntyre.  

Apr 03, 2022 06:12 AM IST

WrestleMania 38 live: A flying Scottish Psychopath

What did we just see? As McIntyre was setting Corbin for the Claymore, Moss pulls Corbin out of the ring. An unimpressed McIntyre takes matters into his own hands and pulls out a Swanton dive from inside the ring onto Corbin and Moss outside. Incredible! Your first big WrestleMania moment of Day 1.

Apr 03, 2022 06:10 AM IST

Wrestlemania live: Distraction helps McIntyre

Madcap Moss at ringside tries to offer some advice to Happy Corbin but he did not want any and it results in a small argument. The distraction allows McIntyre to get on top of Corbin, but the offence was short lived as he runs into a Deep Six. Kicks out at two and a half though.

Apr 03, 2022 06:07 AM IST

WWE Wrestlemania latest updates: McIntyre vs Corbin up next

Drew McIntyre walks out to a rousing reception as he has revenge on his mind. He grabs early advantage over Happy Corbin with a few hard punches and driving him into the barricade. Corbin negates the early threat as he shoves McIntyre outside the ring. Some damage done to the former WWE champion. Corbin suplexes McIntyre much to the disappointment of the fans.  

Apr 03, 2022 05:54 AM IST

WrestleMania 38 Live Updates: The Usos' reign of dominance continues

Boogs' knee buckled and he was in no position to continue. Nakamura managed to kick out of a frog splash but handling both Usos proved too much as the longest reigning Smackdown tag team champions retain the tag team titles. Nakamura visibly upset at Boogs not able to play any further part in the match as he receives attention by the medical staff outside the ring.

Apr 03, 2022 05:51 AM IST

WrestleMania Live Updates: What power by Boogs

Tags are made and instantly, Rick Boogs provides an example of his power. He held Jimmy on position for a suplex, going down on his knees before landing him on the mat. Holds Jimmy up for another offence and then even grabs Jey on top of his brother on Boogs' shoulders. But the weight was perhaps just too much and Boogs' knee gives up.  

Apr 03, 2022 05:48 AM IST

WrestleMania 38 Live Updates: Early offence from Nakamura

A few sharp kicks from Nakamura starts the match. Forces an early pin as part of an attempt to win the gold but Jimmy Uso kicks out. Soon enough, as expected, Jey and Jimmy managed to bring out a couple of cheap shots to get advantage. Step up enzuigiri from Jimmy but Nakamura kicks out.

Apr 03, 2022 05:41 AM IST

WrestleMania 38 Live: The pyros begin, Tag-team title match up first

Michael Cole introduces the world to Wrestlemania like only he can, with adrenaline pumping lines on air. Welcome to the most spectacular, the most awe-inspiring and the most 'stupendous' WrestleMania. The Dallas Cowboys Cheerleaders just kicked things of and we are in for our first match  as The Usos defend the Smackdown Tag team tiles against Shinsuke Nakamura and Rick Boogs.

Apr 03, 2022 05:34 AM IST

WrestleMania Live: And we are underway

Brantley Gilbert starts off the show by singing 'America The Beautiful'. The country rock singer joins a list of illustrious celebrities to perform at WrestleMania. The audience is gearing up and we know you are too. It's time folks, sit back, relax and enjoy as we take you to the ride of your lives as professional wrestling fan. Total GOOSEBUMPS.

Apr 03, 2022 05:30 AM IST

WrestleMania Live: Austin to return to action after 19 years  

The fact that WWE has built up Stone Cold's return with a special emphasis on 19 years, means that the Texas Rattlesnake is set for a segment which is going to be more than just a few stunners. Expect Austin to open a can of 'you know what' against Kevin Owens, who has said all kinds of derogatory things about the state of Texas. But a lot will depend on how Austin's body and physical conditions responds. At Mania 38, Austin tore his biceps upon landing a few punches. But rest assured, he has trained and he has trained hard, and he will ensure KO ends up eating his words. 

Apr 03, 2022 05:25 AM IST

WrestleMania Live Updates: Seth Rollins vs Who

The biggest question heading into the 'Showcase of the Immortals', there is one superstar who although has booked a place at WrestleMania, but does not know who he is facing. Seth 'Freakinnn' Rollins finally has an opponent, of Mr. McMahon's choosing. But who do you think it is? The rumour mills have been going rampant with speculations that It's going to be Rollins vs Cody Rhodes, but whether WWE straightaway makes Rhodes re-debut at Mania, remains to be seen. Other options are a potentially-returning Shane McMahon, and here's a wild guess… What if it's The Undertaker, who has evening said… 'Never Say Never', as he entered the WWE Hall of Fame.

Apr 03, 2022 05:20 AM IST

WrestleMania 38, Live Updates: Rate the stage from 1-10

Mania 38 stage looks lit.  (WWE)

If you haven't yet gotten the chance to see the beauty that is the WrestleMania 38 stage, go have a look. It is so magnificent. Probably one of the top 5 WrestleMania stages of all time. Check out how grand it looks. WrestleMania 32, which was held at this very venue six years ago, was another piece of art. But this one really takes the cake.

Apr 03, 2022 05:15 AM IST

WrestleMania Live Updates: Madcap Moss continues the verbal assault on McIntyre

As we inch closer to the star of the show, Madcap Moss arrives next to the kickoff panel and continues the verbal assault on Drew McIntyre ahead of his match against Happy Corbin. Some unpleasant things were said and expect the Scottish Psychopath to get his revenge against two guys who have really tried to get under his skin.

Apr 03, 2022 05:10 AM IST

WrestleMania 38 Live: Here are all the matches lined up for Day 1

1 The Miz & Logan Paul vs Rey and Dominik Mysterio

2 Drew Mc Intryre vs Happy Corbin

3 The Usos vs Shinsuke Nakamura and Rick Boogs

4 Becky Lynch vs Bianca Belair (Raw Women's Championship)

5 Charlotte Flair vs Ronda Rousey (Smackdown Women's Championship)

6 The New Day vs Sheamus and Ridge Holland

7 Seth Rollins vs opponent of Mr. McMahon's choosing

8 Stone Cold Steve Austin to confront Kevin Owens on 'The KO Show'

Apr 03, 2022 04:56 AM IST

WWE Wrestlemania 38 Live Updates

Here we go. Wrestlemania is upon us, the grandest annual WWE Pay Per View event. Day 1 of the 'stupendous' event will see some of the greatest names go head-to-head, highlighted by the much-awaited return of The Texas Rattlesnake, 'Stone Cold' Steve Austin. Furthermore, both Raw and Smackdown's Women's championships will be on the line with Charlotte defending her title against Ronda Rousey and Bianca Belair looking to regain the title against Becky Lynch. Finally, Seth Rollins's mystery opponent will be unveiled. Who do you think it will be. Get ready for the ride… of a lifetime as we near the start of Wrestlemania at Arlington, Texas.  
'The Game' attained fame mainly as the heel, during which he also founded the iconic 'D-Generation X', an outfit featuring him alongside Shawn Michaels, Chyna, and Rick Rude.
Updated on Apr 02, 2022 08:03 PM IST
2022 WWE Wrestlemania 38 Live Streaming: All you need to know about the WWE's biggest annual PPV, venue, match card, championship and other details.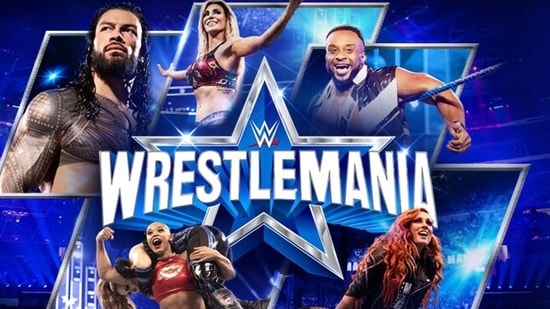 Published on Apr 02, 2022 05:24 PM IST
Despite carrying a rich family legacy on her shoulders, the current SmackDown Women's Champion has delivered in almost all occasion and in a recent interview with Hindustan Times, she claimed that she no longer feels the added pressure.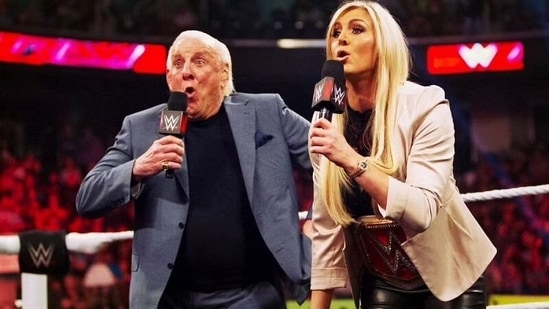 Updated on Mar 18, 2022 12:37 AM IST
Austin Theory along with five others (Brock Lesnar, WWE Champion Bobby Lashley, Seth Rollins, AJ Styles, and Matt Riddle) will be locked in a chamber for the WWE Championship.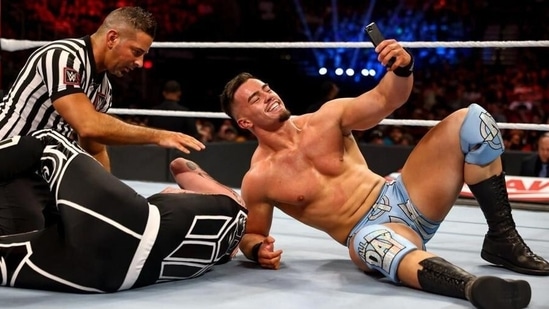 Published on Feb 17, 2022 06:44 PM IST
WWE Royal Rumble 2022 live streaming in India: WWE Royal Rumble 2022 will telecast on on Sony TEN 1 (English), Sony TEN 3 (Hindi), and Sony TEN 4 (Tamil & Telugu) channels. The live streaming of the pay-per-view event will be available on Sony LIV app and website.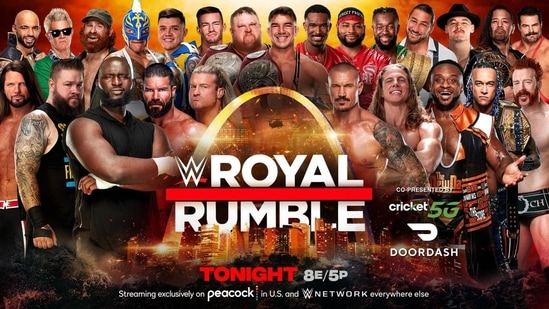 Updated on Jan 29, 2022 07:55 PM IST